Amrom Morgenstern says:
Mortgage Problems?
Mortgages can be daunting.
You have a few hundred thousand dollars borrowed from a bank and you fall short for a month or two...or more...a lot more.
It might help to know that if you don't intend on getting help – which isn't recommended, as it's always helpful to have a professional at your side – you should still be honest and open with the bank.
In today's environment, many banks have stretched the wait time to a year and even longer to give homeowners a chance to catch up. And loan modifications have been offered to those that thought they couldn't get any.
Some tips:
1) Think of renting out some space in your house for someone else's "home office."
2) Check references at local community assistance organizations for reputable mortgage counselors and debt relief experts.
3) Keep in touch with your bank at least once a month. Just call and let them know if your financial status has changed or not.
4) Do not get frightened and desperate if somber notices come from the bank. As long as you are in touch with them and have some understanding you will not be dealt with harshly.
5) Place your trust in G‑d!
Anonymous says:
Get In Shape!
The recession is bad but it's also an opportunity to reassess your lifestyle and make the changes that you've been meaning to make, but things were too busy...or they were too something....and you just never made those changes.
Eat better, healthy foods and cut out the expensive pre-packed, junky foods. And there are a lot of inexpensive or free fitness classes. Walk. Things are never as grim when you feel good about yourself and the choices you make for yourself.
And during this time of job losses, stock losses, savings losses, you can think also of weight losses, clothing size losses, and heart attack risk reduction! You can institute your own "Pre-Recovery Plan" to reduce your risk of serious health problem.
Okay, that sounds a little corny...but those kinds of lifestyle changes do really work. And it's easier to make those changes when you have incentive. I know.
It's easy to say, "I have to do something," when you go for a blood test and the blood barely drips, like syrup, into the vial...and the tech looks at her watch because she has another appointment...But to make the changes, you need to work towards something.
Dovid Schatzkamer says:
Today you're probably sitting down in your chair and looking through the daily newspaper in the classified section. Like many of us, we can get sad, depressed, or bored.
My advice to you all is to take two seconds to contemplate all the good that is going on around you. All the nachas your children and grandchildren bring to you. Instead of sitting around and being depressed, you need to rise up and add something new to your day. Get a Torah study partner, start adding a little more Torah and chassidic teachings and you will see that G‑d will bring you out of this hard and tough situation.
Gitty A. says:
Vitamins & Confidence Boosting
When my husband lost his job, I turned to mashpiim (spiritual mentors) for advice. I was given two main pieces of advice, both of which made a big difference. One was to take those vitamins that are known for helping one's nerves, such as b-complex, max-relax, etc. I also use tiny bits of raw aloe to calm my stomach. The second was to verbally reinforce my husband's self image.
Keeping strong in this situation is not easy, and having someone to talk to makes all the difference.
Avrom Miller says:
Prayer, Reading & Exercise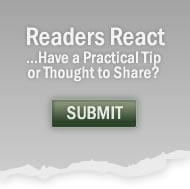 As someone who has been struggling to make ends meet with yeshiva tuitions and feeding a family, etc. – long before the most recent economic crisis hit – I would like to share my own personal coping strategy:
Pray, read books and get plenty of exercise. Keeping the mind, body and soul meaningfully engaged and constructively occupied changes the way you experience gloomy and dark realities of daily life. Not only that, it can actually transform the gloominess and darkness into something valuable and meaningful.
Pray, read books and get plenty of exerciseIt honestly works for me. The mind, body and soul are all connected. During difficult times, we often lose sight of that simple truth and fall into patterns of thinking and behavior which are counterproductive.
Take time for really meaningful personal prayer and or meditation to G‑d.
Make time for exercise. It will relax you and change the way you feel about life and yourself. Curl up with a good book.
Malka Hellinger says:
The Museum of Life
We're so used to shopping, shopping, shopping. It's a sport, a recreational activity, a boredom reliever, a reward for good behavior, a salve for boo-boos. Well, most of us have got to reconsider. Big time. You can stay out of the mall. Usually.
Wal-Mart? (Excuse the expression) If it's your regular grocery store, well, you can just go to the food side of that mammoth retail extravaganza. Sometimes. "It's on sale." "It's so cute!" "Buy one, get one free, buy two, get one free, buy one, second one half price..." I'm getting dizzy! Where does it end?
Sometimes you can't avoid seeing stuff that you'd normally (previous normal) stop and buy, or at least stop and consider buying. But I've discovered a psychological trick that might help you, since, thank G‑d, it's helped me. It's called "The Museum of Life."
When we go to a museum, we go to visually enjoy what they've put on display. (Sometimes we get to learn some interesting things, too.) No one goes over to the security guard and asks, how much is that cute little "Picasso" or "Monet" on the wall. So, you're strolling down Broadway, or 13th Ave, or Main Street, USA, or even Ben Yehuda, and see something that catches your eye. Wait! You're in "The Museum of Life." Take a look, enjoy the visual moment, and then continue walking. That's it! (Sometimes you've got to give yourself a bit more of a pep talk in order to resume your stroll.) It's not so silly, just try it!
Take a look, enjoy the visual moment, and then continue walking. That's it!Many of our homes are so full of material possessions, there's enough for several households. So, I'm not talking about anything close to self-deprivation, it's more in the category of carefully considered moderation. But if you're shopping for non-necessities was a bit out of control, sometimes your consumer consumption pendulum needs to swing way over to the other side, before it finds a happy medium place to settle.
And don't forget that G‑d runs the world. You'll have what you need, don't worry. And if that voice inside that's yelling "buy more, get more" won't quiet down, go ahead, go and get more...mitzvos! You can grab a few extra mitzvos, or a handful of extra acts of kindness. Nothing comes out of your material bank account, and you make huge deposits into your spiritual bank account. Just imagine, they're always "on sale." And I think the deal there is even better than "buy one, get one free."
Malka Hellinger, currently on sabbatical in Israel, is a teacher at Lubavitch Educational Center of Miami. She wrote frequently for N'Shei Chabad Magazine, and is currently working on several articles and poems for publication in various Jewish women's publications.
Mary Maslowski says:
Dad's Advice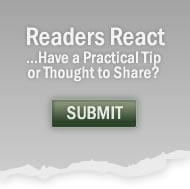 Thirty years ago, during the economic woes of the late 70s, my dad gave me good advice regarding our small children. He said never to burden children with the family's economics. That is between you and your husband. It does nothing but confuse and scare small children about things they really don't understand anyway. Kids need stability in their lives, not uncertainty.
Constance Trinkman says:
Homegrown Herbs
I am surviving this economy quiet nicely. Why? Because I have lived a frugal lifestyle. That means that at times when the world is in financial crisis, I am thriving.
I have not had to learn to bargain shop, I know how. For years I have chosen "recycled" clothing for my family and can tell you that not all resale shops are equal. I know all the sales in my area and insist on using coupons. I learned which of my local grocery stores has the best price on which item and shop locally. When I moved into my home, I pulled up the hedges and flowers and replaced them with herbs that I use to cook. This summer I will even use strawberries as "flowing plants" for "color" and other veggies that it was too late in the summer to plant. My family eats leftovers, cooks with less meat and I carry my lunch to work. We utilize local libraries and I have a full list of local free/low cost events for my family to attend! Some of which are amazing!
I take full advantage of free/swap/barter sites on lineI started a group of local women (of all faiths) that help each other learn how to get free things on line, or earn a small amount of extra money on line, or refer to social service agencies as needed. We also join together to purchase organic cleaners, etc., so that we save money by purchasing larger amounts. This summer we have the goal of shopping together at the local farmers market then canning and freezing together! A few members also grow herbs, or make items, so we can barter with each other. I have even taken women to the grocery store to teach them how to expand the money, how ever much they have.
I take full advantage of free/swap/barter sites on line, offer coupons and samples. My piano was even free! I choose to only have "emergency credit."
The result is that I can live on what others find they are unable to. It is also my opinion that it is not only our individual survival that matters, but of those around us! I hope that some of these ideas are what you are looking for.
Peace,
Constance Trinkman
Birth Mom of 5
Adoptive Mom of 1