ב"ה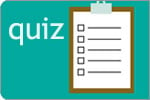 Take this quiz to see how well you know the parshah of Acharei-Kedoshim.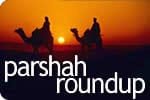 A quick family-oriented summary of the events in this week's Parshah. Kids, read it online to get a picture of all the exciting going-ons in this week's parshah. Parents, print it out to share at the Shabbat table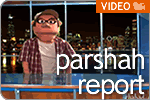 Kedoshim Parshah Report
Gefilte fish, master of relaxation and the art of meditation, teaches us how to be Holy, breath deeply, and scream at our friends... Hey, are we missing something?
A fun and easy game to test your knowledge of the Parshah. Read the Parshah Roundup first so you're sure to know the answers, then play the game online and print it out to share with your family and friends. A great round-the-table review, too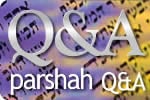 Question and answers on events in the Parshah, complete with the source verses, so you can see the question inside the text. For Shabbat table discussion
This week: We know there's a commandment to "love your fellow as yourself," but what if the fellow in question isn't so lovable? Leah and Debbie find out what happens to their first impressions when they try to do the right thing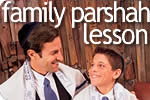 This week: Danny discovers why being the best student isn't enough...and how there is a deeper lesson in the Torah verse he thinks he knows so well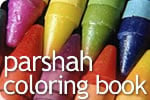 A Parshah Coloring Book, with drawings illustrating the events in each parshah, to print out and color
BOOK OF BERESHIT
BOOK OF SHEMOT
BOOK OF VAYIKRAH
BOOK OF BAMIDBAR
BOOK OF DEVARIM
DOUBLE READINGS
HOLIDAY READINGS