ב"ה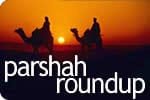 A quick family-oriented summary of the events in this week's Parshah. Kids, read it online to get a picture of all the exciting going-ons in this week's Parshah. Parents, print it out to share at the Shabbat table.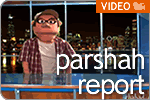 Tazria-Metzora Parshah Report
Ever heard the old saying, "Never let a monkey feed you grapes"? Well, neither did Jono. Join Jono and Gefilte Fish as they explore the fascinating topic of old-world diseases, and learn about being careful with what you say about other people along the way.