Print

Email

Discuss (20)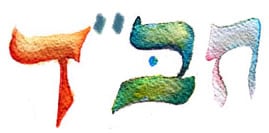 The Philosophy
Chabad-Lubavitch is a philosophy, a movement, and an organization. It is considered to be the most dynamic force in Jewish life today.
Lubavitch appropriately means the "city of brotherly love"The word "Chabad" is a Hebrew acronym for the three intellectual faculties of chochmah—wisdom, binah—comprehension and da'at—knowledge. The movement's system of Jewish religious philosophy, the deepest dimension of G‑d's Torah, teaches understanding and recognition of the Creator, the role and purpose of creation, and the importance and unique mission of each creature. This philosophy guides a person to refine and govern his or her every act and feeling through wisdom, comprehension and knowledge.
The word "Lubavitch" is the name of the town in White Russia where the movement was based for more than a century. Appropriately, the word Lubavitch in Russian means the "city of brotherly love." The name Lubavitch conveys the essence of the responsibility and love engendered by the Chabad philosophy toward every single Jew.
The Movement
Following its inception 250 years ago, the Chabad-Lubavitch movement—a branch of Hasidism—swept through Russia and spread in surrounding countries as well. It provided scholars with answers that eluded them, and simple farmers with a love that had been denied them. Eventually the philosophy of Chabad-Lubavitch and its adherents reached almost every corner of the world and affected almost every facet of Jewish life.
The Leadership
No person or detail was too small or insignificant for their love and dedicationThe movement is guided by the teachings of its seven leaders ("Rebbes"), beginning with Rabbi Schneur Zalman of Liadi of righteous memory (1745–1812). These leaders expounded upon the most refined and delicate aspects of Jewish mysticism, creating a corpus of study thousands of books strong. They personified the age-old Biblical qualities of piety and leadership. And they concerned themselves not only with Chabad-Lubavitch, but with the totality of Jewish life, spiritual and physical. No person or detail was too small or insignificant for their love and dedication.
In our generation, the Lubavitcher Rebbe, Rabbi Menachem Mendel Schneerson of righteous memory (1902–1994), known simply as "the Rebbe," guided post-holocaust Jewry to safety from the ravages of that devastation.
The Organization
The origins of today's Chabad-Lubavitch organization can be traced to the early 1940s, when the sixth Lubavitcher Rebbe, Rabbi Yosef Yitzchak Schneersohn of righteous memory (1880–1950), appointed his son-in-law and later successor, Rabbi Menachem Mendel, to head the newly founded educational and social service arms of the movement.
Today over 4,500 full-time emissary families direct more than 3,500 institutions Motivated by his profound love for every Jew and spurred by his boundless optimism and self-sacrifice, the Rebbe set into motion a dazzling array of programs, services and institutions to serve every Jew.
Today over 4,500 full-time emissary families apply 250-year-old principles and philosophy to direct more than 3,500 institutions (and a workforce that numbers in the tens of thousands) dedicated to the welfare of the Jewish people worldwide.
© Copyright, all rights reserved. If you enjoyed this article, we encourage you to distribute it further, provided that you comply with Chabad.org's
copyright policy
.
January 4, 2017
Beautifully put! Thanks for posting and for all you do. You are a blessing!
Anonymous
chabadoflajolla.com
November 10, 2015
Intro to Chabad
I was involved in another, non-Jewish organization that suggests those involved examine their relationship with God. I had no relationship with God. When learning about this, a non-Jewish member of this organization suggested that I ask my Rabbi. I said that I didn't have one. He said "Get one". The very next day, a Chabad Rabbi came to my home, (in Stevensville, Montana, of all places), and a friendship was born. I had the joyous privilege of going to the Fabrengen of Chabad Rabbis in New York this last weekend. The journey continues...
Alan Abrahamsaon
Montana
jewishmontana.com
September 1, 2015
I still remember all my experiences with Chabad. The first time I ever saw a Chabadnik was about a month before Chanukah/Hanukkah/Chanuka/Hanuka of '08. Someone from the regional offices came in to show us how to light an oil menorah. The Passover after that, the same person taught us to bake our own matzah make our own shofar two years later for Rosh Hashana and again this past Sunday.
Samantha Leon
May 13, 2015
Thank you!
I spent a wonderful Shabbat with Rabbi Tiechtel at the Nashville Chabad Center. It was delightful. The Rabbi's talks were enlightening and the people I met were hospitable, walking in the footsteps of Avraham Avinu and in the tradition of Chabad. I was given royal AAAAA treatment, as if a visiting king!
It was a Shabbat I will never forget.
Thank you!
David Wilder
Hebron, Israel
chabadnashville.com
January 5, 2015
Re: Jeremiah
Of course there is!
There's a place for everyone at Chabad
Anonymous
chabadnorthernnevada.com
December 11, 2014
Attack in Crown Heights
I read with horror about the attack in Crown Heights. Your people have helped me repeatedly over the last five years. I only wish I could do more than send my deepest condolences and heartfelt prayers to the relatives and friends of this latest victim of anti-semitic violence. "The Lord bless you and keep you and make his face to shine upon you and grant you peace." That says it all.
Anonymous
United Kingdom
December 10, 2014
What about me?
I am an atheist, is there a place for me in Chabad?
Jeremiah
Portland, OR
chabadoregon.com
November 2, 2014
CHABAD reaches out
CHABAD reaches out to everyone - regardless of their origins. They rescued me five years ago and I can never do enough to express my gratitude.
Anonymous
UK
May 6, 2014
Chabad-Lubavitch
Having just finished reading the new and expanded edition of Rabbi Weiners 91/2 Mystics , (read the original years ago) , I am happy/ pleased to see that the
Chabad-Lubavitcher movement is still vigorous and alive...

While not born into a Jewish family , the Lubavitcher Mysticism , is refreshing and necessary in a world gone crazy...
Jurgen Beck
Canada
February 22, 2014
Torah Fan
I've been drawn near to the Lubavitch by my Love for Torah and the unveiling of its mysteries which continue to bring me closer to my family and yours. Thank You for sharing many wondrous works via your website.
TC Blalock
Phoenix, AZ
chabadcenter.com