E-mail
"The Ohel" is where the Lubavitcher Rebbe, Rabbi Menachem Mendel Schneerson, of righteous memory, was laid to rest on the 3rd of Tammuz 5754 (June 12, 1994), next to his father-in-law, the sixth Lubavitcher Rebbe, Rabbi Yosef Y. Schneersohn, of righteous memory.
Today people continue to send letters to be placed at the Ohel for the Rebbe's guidance and intervention On High. Fill out a form and have your prayers brought to the Rebbe's gravesite.
Before entering the Ohel, it is customary to write a letter to the Rebbe.
Directions to the Ohel from the five boroughs, New Jersey, the Interstate and local airports.
The holy resting places of our righteous forebears have served as spiritual oases in times both joyuos and sad.
Free translation of a public letter written by the Rebbe shortly before the first yahrtzeit (anniversary of passing) of his father-in-law and predecessor, Rabbi Yosef Yitzchak Schneersohn of Lubavitch


Related Video
Living Torah Video Magazine
Weekly video magazine featuring the Rebbe
Praying at the Ohel
The Rebbe praying for people at the resting place of his father-in-law (next to whom he is now interred)
Distributing Charity
On his way to the prayers, the Rebbe would distribute charity to the children
Challenge
The Rebbe's relentless call to always do more
"I Will Bring it to the Ohel"
The Rebbe responds to people inquiring about their letters to him, that he will pray for them at his father-in-law's resting place
Related Links
About the Rebbe
A brief Biography
TheRebbe.org
Special Section
Did you know the Rebbe?


Share Your Experience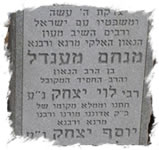 Ohel Chabad Lubavitch
226-20 Francis Lewis Boulevard, Cambria Heights, NY 11411
Tel: +1 (718) 723-4545
Fax: +1 (718) 723-4444
ohel@ohelchabad.org